Special Books on the Goddess and Powerful Mantra Chanting CDs by Yogini Shambhavi Devi–
---

Books on Vedic Knowledge by Dr. David Frawley (Pandit Vamadeva Shastri), D.Litt.,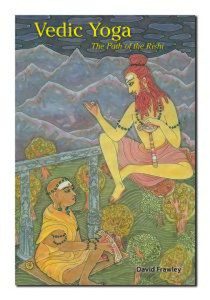 Note below more than thirty-five published books by Dr. David Frawley (Pandit Vamadeva Shastri), available in twenty languages worldwide – perhaps the largest collection of published books on Vedic knowledge in the West by a single living author, with several books available On-line or in Google Preview. 
Frawley's main publishers are Lotus Press (USA), Motilal Banarsidass (MLBD, India), Voice of India (India). His Lotus Press books are available in Kindle Editions, as are many of his other books.
Note new Title of Dr. David Frawley, Vedic Yoga: The Path of the Rishi, an extensive study of the roots of all the main paths of Yoga in the Vedic teachings going back to the most ancient Rigveda, including revealing the teachings of important modern Vedic gurus such as Sri Aurobindo, Ganapati Muni and Swami Veda Bharati. It is his most detailed work yet available on the yogic secrets of the Vedas.
---
Books on Ayurvedic Medicine
---
Books on Yoga, Tantra & Vedanta
---
Books on Vedic Astrology (Jyotish)
---
Books on Vedas and Ancient India
---
Books on Hinduism (Sanatana Dharma, the Eternal Tradition)
---