New Release, Dr. David Frawley's Shiva, the Lord of Yoga
Lord Shiva is the personification of all the main practices of Yoga, as the origin and ruling power over asana, prana, mantra, inner seeing and meditation. He is the ultimate Yoga guru reflecting the highest Self-awareness. Yet this centrality of Shiva in Yoga is rarely understood and utilized. The current book unfolds the presence, light, energy and consciousness of the Supreme Shiva to take us beyond all death and duality.
Dr. David Frawley (Pandit Vamadeva Shastri), D.Litt, is one of the most respected modern teachers of the deeper secrets of Yoga and the Vedas, an author of more than forty books in twenty languages worldwide. He received the prestigious Padma Bhushan award in 2015 from the president of India for his outstanding work in the Vedic field.
Vamadeva presenting the book Shiva, the Lord of Yoga, to Hon. Sri Narendra Modi, the Prime Minister of India, at his office in Delhi June 23, 2015, following Dr. Frawley's talk on the Vedic Origins of Yoga for the International Conference on Yoga for Holistic Health convened by the AYUSH Ministry.
"Vamadeva Shastri has been a spiritual guide and mentor of mine for several decades. For anyone who is serious about their journey to higher divine consciousness this book is yet another jewel from him. I'm immensely grateful that he is in our lives."
Dr. Deepak Chopra
"Dr. Frawley has conveyed the intricate philosophies of Lord Shiva through language that is simple and beautiful. Shiva: "The Great Lord of Yoga" is wonderful book of insight. I strongly recommend that you read it."
Amish Tripathi, India's best-selling author of the Shiva Trilogy
For More Information on this Extraordinary Book
---
Special Books on the Goddess and Powerful Mantra Chanting CDs by Yogini Shambhavi Devi
---

Books on Vedic Knowledge by Dr. David Frawley (Pandit Vamadeva Shastri), D.Litt., 
Note below more than thirty-five published books by Dr. David Frawley (Pandit Vamadeva Shastri), available in twenty languages worldwide – perhaps the largest collection of published books on Vedic knowledge in the West by a single living author, with several books available On-line or in Google Preview.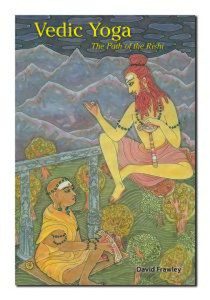 Frawley's main publishers are Lotus Press (USA), Motilal Banarsidass (MLBD, India), Voice of India (India). His Lotus Press books are available in Kindle Editions, as are many of his other books.
2014 Title of Dr. David Frawley, Vedic Yoga: The Path of the Rishi, an extensive study of the roots of all the main paths of Yoga in the Vedic teachings going back to the most ancient Rigveda, including revealing the teachings of important modern Vedic gurus such as Sri Aurobindo, Ganapati Muni and Swami Veda Bharati. It is his most detailed work on the yogic secrets of the Vedas.
---
Books on Ayurvedic Medicine
---
Books on Yoga, Tantra & Vedanta
---
Books on Vedic Astrology (Jyotish)
---
Books on Vedas and Ancient India
---
Books on Hinduism (Sanatana Dharma, the Eternal Tradition)
---