Take a detailed distance learning program on classical Yoga and traditional Ayurveda for body, mind and spirit by a recognized master teacher (acharya) and author in both subjects. The course covers all eight limbs of Yoga according to Ayurvedic principles, including not only asana and pranayama but deeper practices of mantra and meditation.  It teaches the principles of an Ayurvedic Yoga approach  for the full healing of consciousness.
The course is helpful for all Ayurvedic and Yoga therapists, teachers and serious students, particularly those who want a good foundation in the greater Yoga tradition. The course shows Ayurveda as the medicine of Yoga and shows the traditional Ayurvedic guidelines of employing Yoga therapies, not only for the body but also for the mind.
The course provides the graduate with the title of "Yoga and Ayurveda Wellness Consultant," which can help you in your practice of both these important fields.
For those wanting to go immediately to the course ordering, note the information directly below and course ordering options to the right. For those wanting to know more about the course, scroll on to the course information section. Yet even if you want to order the course now, please go through the complete course information section for all details on the course and how it is handled, as well as its syllabus so that you know all the topics that will be covered.
---
ORDERING THE COURSE
NEW ON-LINE COURSE ACCESS:
***Note new ordering option for the course through on-line access for $495.00. It will not include any printed material or reference books. You will receive a special on-line course access code shortly after you sign up for the course.
For International Orders this will now be the main way of course ordering.
On-line allows you easy course access that you can have from your own computer wherever you are. It also allows you immediate access to any course changes or updates.
We will also add an option of adding on-line access to the printed course versions for those in USA and CANADA only.
5 REFERENCE BOOKS RECOMMENDED, by David Frawley
Yoga for Your Type: An Ayurvedic Approach to Your Asana Practice (with Sandra Kozak)
Ayurveda and Marma Therapy (with Ranade and Lele)
Vedantic Meditation: Lighting the Lamp of Awareness
Tantric Yoga and the Wisdom Goddesses: Spiritual Secrets of Ayurveda
Yoga and the Sacred Fire: Self-Healing and Planetary Transformation
You can purchase these books from Lotus Press (1-800-824-6396), Amazon.com or other sources, including by kindle editions. You can only order these reference books with us if you sign up for the printed course version.
If you don't already have the books of Frawley, Yoga and Ayurveda: Self-healing and Self-realization, and Ayurveda and the Mind: the Healing of Consciousness, you would benefit from getting these as well.
You can benefit from Yogini Shabhavi's Mantra chanting  CDs, Yogini Bhava and Jyotir Bhava, to help pronounce the mantras taught int he course.
In addition, Nicolai Bachman's CDs on the Language of Ayurveda and the Language of Yoga are also recommended for help in Sanskrit pronunciation, but not required.
---
PRINTED COURSE VERSION:
The full course is sent out upon receipt of payment.
LENGTH – Three special course booklets totaling over six hundred 8 1/2 by 11 pages.
COST – $595.00, without reference books or shipping and handling costs, which are extra (30.00 for USA and 60.00 for Canada). 
Interactive Option 
You can take the course now with more personal interaction with an instructor. This option allows you to send in all the study questions and study exercises for each of the more than forty lessons for grading and comments, as well as whatever additional questions you may have.
Currently the interactive option is handled by Acharya Vamadeva and will allow you to have direct instruction from him. It is the only one of our courses that he is currently covering. This option is available for an additional charge of $400.00 and provides 100 hours more of direct study credit with us.
---
BACKGROUND OF COURSE
Yoga and Ayurveda are sister sciences for healing, integration and transformation on all levels of our being. Traditional Ayurveda focuses more on the wellness and treatment side of this process (Chikitsa) for body and mind, while Traditional Yoga aims more at self-development and Self-realization (Sadhana).
The course teaches an integral healing and transformation approach of both Yoga and Ayurveda, considering all aspects of yoga, with a grounding in traditional texts and classical teachings. It is not an asana course but a study of Yoga and Ayurveda on all levels of classical or Raja Yoga.
The course aims at providing the student with the foundation for an integrated Yoga-Ayurveda approach on physical, psychological and spiritual levels, considering the greater Yoga tradition. It provides an excellent set of course books that provide an important reference guide for the future.
BACKGROUND RECOMMENDED FOR THE COURSE
The course does best with students who have a background in Ayurveda and understand its prime concepts (doshas, dhatus, subdoshas, malas and srota-systems).  It also helps if you are familiar with the basic language of Yoga and its main practices from asana to meditation, including some background in Yoga philosophy.
If you have any doubt as to your ability to handle the course material, first go over the syllabus below and see if you can grasp the topics involved. If you can understand the concepts in the book Yoga and Ayurveda by David Frawley, that is a good sign you are ready for the course. We can suggest additional reading for you in these areas if this is not the case.
Course Topics
This informative course covers the broader field of integral Yoga and integral Ayurveda. It shows the therapeutic application of all the eight limbs of Yoga from the life-style principles and practices of the Yamas and Niyamas, to the Ayurvedic and healing usage of Asana, Pranayama, Pratyahara, Dharana, Dhyana and Samadhi.
The course contains a complete translation, commentary and study of the Yoga Sutras from a Vedic and Ayurvedic angle, showing the implications of classical Yoga for the Ayurvedic healing of both body and mind. It introduces Ayurvedic Yoga and its Vedic equivalents (Vedic Yoga). It also brings in the perspective of Tantra relative to understanding the energetics of the subtle body and Kundalini Yoga. The course goes into detail into mantra. It explains the use of deities and Bhakti Yoga at psychological and healing levels. It follows a Vedantic vision and introduces Advaita or non-duality, the unity of the Self and God, relative to meditation and meditation therapy.
COURSE AUTHOR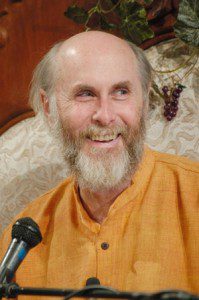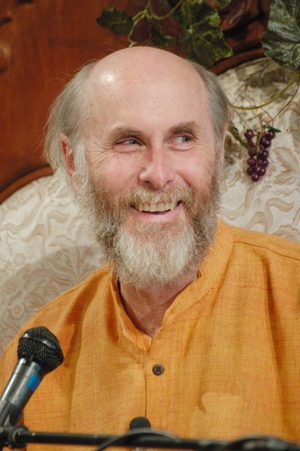 The course is authored by Pandit Vamadeva Shastri (Dr. David Frawley), a noted author on Ayurveda, Yoga and Vedic Studies. He has written on Yoga and Ayurveda, Tantric Yoga, Vedic Yoga, Vedanta and Jnana Yoga, Bhakti Yoga, Yoga and Vedic astrology, and the history of the Yoga tradition based upon his extensive study in original Sanskrit texts. His book Yoga and Ayurveda: Self-Healing and Self-realization has been the most popular book on Yoga and Ayurveda in the English language for more than fifteen years.
Vamadeva has taught at Yoga conferences and ashrams in the West over the last thirty years, including Yogaville, Sivananda, Kripalu, Himalayan Institute, Mt. Madonna, CSA, Ananda and Hinduism Today. He has worked with many Yoga organizations in India, both North and South, traditional and modern. He is a Master Educator for the Chopra Center University and guides their Primordial Sound Meditation Teacher training. He has a rare and prestigious D. Litt. (Doctor of Letters), the highest educational title possible, from SVYASA (Swami Vivekananda Yoga Anusandhana Samstha), the only deemed Yoga university recognized by the Government of India.
---
COURSE SYLLABUS – Yoga and Ayurveda, Mantra and Meditation Course
PART I Traditional Texts and Teachings 
Section 1 – Introduction and Background
Lesson 1. Course Orientation
Lesson 2. Ayurveda and Yoga Therapy Overview
Lesson 3. Yoga Dharma and Vedic Knowledge
Lesson 4. Spiritual and Cosmological Background
Lesson 5. The Three Gunas and Five Elements as Yogic and Psychological Indicators
Section 1 Final Test
Section 2 – Classical Yoga According to Ayurveda
Lesson 6. Overview of the Greater System of Yoga
Lesson 7. Ayurvedic Guide to the Yoga Sutras 1: Samadhi Pada
Lesson 8. Ayurvedic Guide to the Yoga Sutras 2: Kriya Yoga Pada
Lesson 9. Ayurvedic Guide to the Yoga Sutras 3: Siddhi Pada
Lesson 10. Ayurvedic Guide to the Yoga Sutras 4: Kaivalya Pada
Lesson 11. Key Teachings of the Bhagavad Gita and Upanishads
Lesson 12. Key Teachings of the Hatha Yoga Pradipika
Section 2 Final Test
Part II 
Section 3 – The Ayurvedic Application of Yoga Practices
Lesson 13. The Ayurvedic Application of Asana 1: Asana and Sattva Guna
Lesson 14. The Ayurvedic Application of Asana 2: Structure and Dosha
Lesson 15. The Ayurvedic Application of Asana 3: the Energetics of Asana
Lesson 16. The Ayurvedic Application of Pranayama 1: Energetics of Pranayama
Lesson 17. The Ayurvedic Application of Pranayama 2: the Role of the Five Pranas
Lesson 18. The Ayurvedic Application of Pratyahara: Internalization of Energy
Lesson 19. The Ayurvedic Application of Dharana: the Therapeutic Use of Concentration and Attention
Lesson 20. The Ayurvedic Application of Dhyana: Meditation as a Therapy
Lesson 21. The Ayurvedic Application of Samadhi or Unity Consciousness
Section 3 Final Test
Section 4 – Ayurvedic and Vedic Yoga
Lesson 22. The Yoga of Ayurveda and its Cosmic Background
Lesson 23. Agni Ayurveda
Lesson 24. Agni Yoga
Lesson 25. The Fire of Self-Inquiry
Lesson 26. A Vedic Prayer to the Heart
Section 4 Final Test
Part III – 198 pages
Section 5 – Higher Practices
Lesson 27. Mantra Therapy 1: Background View
Lesson 28. Mantra Therapy 2: Primal Sound
Lesson 29. Marma Therapy
Lesson 30. The Yoga of Devotion (Bhakti Yoga)
Lesson 31. Karma Yoga, Timing and Ritual
Lesson 32. The Healing Energies of Tantra
Lesson 33. Kundalini and the Chakras
Lesson 34. Smarana: the Practice of Remembrance
Lesson 35. Advaita Vedanta: the Supreme Teaching of Yoga and Ayurveda
Lesson 36. Summary and Overview of Yoga Practice
Section 5 Final Test
Appendices
Appendix 1: Teachings
Appendix 2: Glossary
Appendix 3: Bibliography
Appendix 4: Sanskrit Pronunciation Key
---
COURSE FORMAT
The course comes in three booklets, which are mailed out to the student all at once, or directly accessible through on-line access for those taking the on-line version.
The course takes around six months of serious study to complete. You have three years to complete it from the time you sign up for it or a reinstatement fee may be required.
TESTING AND TEACHER-STUDENT INTERACTION
The course contains study questions and practical exercises at the end of each of the lessons in order to guide the student in his or her study.
It has five detailed final tests at the end of each of the five sections of the course, for the student to return to the institute for grading. Students can send in answers by mail or by email.
Students can email or write the institute if they have additional questions based upon the course material.
CERTIFICATION AND ADDITIONAL STUDIES
The course takes about 300 hours of home study to complete and provides a certification worth

300 hours of distance learning credit with us

. It serves as our Foundation Course in Yoga and Ayurveda and provides a certification with us as a "Yoga and Ayurveda Wellness Consultant," which is the basis for becoming an Ayurvedic Yoga therapist.
The course  provides you certification from a teacher well known in both Yoga and Ayurvedic communities worldwide and regarded as one of the pioneer's of modern Ayurvedic Yoga therapy.
Upon course completion options for further study are possible under our Additional Training in Vedic Sciences Section. Note also our Retreats and Programs which emphasize Yoga and Ayurveda.
OTHER EMAIL OPTIONS
All test answers are best returned to us by email.
We can also email you the test questions for the course in order to save you the time of copying them down. Let us know if you want to receive the test questions by email.