2017 Special Retreats and Events
Dr. David Frawley (Acharya Vamadeva) and Yogini Shambhavi Devi
Take transformative programs and have a personal interaction with Dr. David Frawley, one of the most celebrated Vedic teachers of our times, and Yogini Shambhavi Devi, one of India's foremost teachers of Shakti Sadhana from the Himalayas.
Dr. Frawley is regarded as the most respected western teacher of Yoga, Ayurveda, and Vedic Studies in India and the world today. He has  received several important honors from India, including the prestigious Padma Bhushan award from the President of India and the National Eminence Award from the South Indian Education Society (SIES). Yogini Shambhavi Devi is a highly respected Shakti guru in India with many students and devotees throughout the world.

Please note our Facebook pages for more information on programs, as well as for shorter events not listed below (including Vamadeva and Shambhavi's other India based programs).
This summer we are in retreat for updating courses, writings and personal sadhana, though Yogini Shambhavi continues to be available for Vedic Astrology Consultations.
---
UPCOMING ACTIVITIES FROM OCT. 2017
As of October 2017, we will be returning to India for programs with Jaipur Dialogues, Morarji Desai National Institute of Yoga (Delhi), India Ideas Conclave (Goa), Dharma-Dhamma Conference (Nalanda, Bihar), and other special events.
Most notably, we will continue our India Yoga Shakti Retreats for the eleventh year at the Glass House above Rishikesh, along with a new recommended Yoga Tandava Tour in of Sacred Sites in Rajasthan.
MORE INFORMATION ON OUR PROGRAMS FOR INDIA FOR THE FUTURE WILL BE ADDED SHORTLY.
We are continuing our work with the Chopra Center in terms of the Primordial Sound Advanced Mantra and Meditation Teacher training and its on-line program.
---
OUR  INDIA TOUR AND RETREAT FOR 2017
MARCH 11-16 2017, GANGA YOGA SHAKTI TOUR AND YOGA SHAKTI RETREAT AT THE GLASS HOUSE ON THE GANGES ABOVE RISHIKESH, INDIA. Our tenth annual India Retreat, for Advanced training in Yoga, Ayurveda, Veda and Tantra, with emphasis on Shakti Sadhana, on the most beautiful site in the Rishikesh area. New teachings by Vamadeva and Shambhavi. Sharing Holi, India's Festival of Colors on the Ganga.
DETAILED INFORMATION – REGISTRATION FORM
MARCH 3-11, 2017, YOGA TANDAVA NORTH INDIA TEMPLE TOUR. Starting from Delhi through Amristar and Kangra Valley of Himachal Pradesh, western Himalayas, to Rishikesh. Sponsored by Kapha Collective by recommendation of American Institute of Vedic Studies.
DETAILED INFORMATION – REGISTRATION FORM
---
AFFILIATED ORGANIZATION PROGRAMS 2017
SIVANANDA AYURVEDA AND YOGA WELLNESS COUNSELOR CERTIFICATION COURSES—
The certification is provided jointly by Sivananda Yoga Vedanta Centers/ OR Integral Yoga Institute and AIVS (Dr. David Frawley), giving it special value and worldwide recognition.Taught by Durga Leela and Swami Sitaramananda in classroom instruction in beautiful ashram settings. It has been going on over the last three years.
Mar 1-10, 2017 – Ayurveda & Yoga Certificate Course, 1o-day Training Certification, Dalat, VIETNAM 
Apr 29  – May 8, 2017 – Yoga & Ayurveda Certificate Course, 10-day Training Certification,  Paradise Island, Nassau, Bahamas

Aug 6-16, 2017 – Yoga & Ayurveda Certificate Course, Grass Valley CA
---
---
CONCLUDED 2016 EVENTS—–

DEC. 11 – 13, 2016 PATH TO ENLIGHTENMENT – INSIGHT FROM THE VEDIC TRADITION AT THE CHOPRA CENTER – Special advanced training at the Chopra Center, La Costa, San Diego, with Deepak Chopra, David Frawley, Yogini Shambhavi, Suhas Kshirsagar. 
At Path to Enlightenment you will experience a guided journey through the timeless wisdom of Vedanta, the foundation of yoga philosophy, meditation, Tantra, and Ayurveda, that will lead you to new heights in your personal practice and enhance your understanding and connection to the universe. 
This exclusive workshop is designed for those who are ready to open to new levels of spiritual wisdom and dive deeper into the ancient teachings of Vedic Science. Study alongside preeminent Vedic scholars, scientists, and seers as they translate these powerful teachings into applicable modern tools that are more relevant today than ever.
OCT. 12 – DEC. 5, 2016 INDIA PROGRAMS 
OCT. 19-21 FOURTH ANNUAL DHARMA-DHAMMA CONFERENCE, SANCHI UNIVERSITY, BHOPAL INDIA. Dr. Frawley has been an advisor and visiting professor for Sanchi University since inception.
NOV. 4 – 6, INDIA FOUNDATION GOA CONFERENCE. Special by invitation event to perhaps the foremost think tank in India today.
NOV. 12, PROGRAM AT BHU (BENARES HINDU UNIVERSITY, VARANASI). Program on continuity between Vedic and Tantric Traditions, Shiva and Shakti, Shakti Sadhana.
NOV. 19 – 22, JAIPUR, RAJASTHAN PROGRAMS ON AYURVEDA AND ON SANSKRIT organized by Sanjay Dixit IAS.
DEC. 1- 4, WORLD AYURVEDA CONGRESS, KOLKATA through department of AYUSH, govt. of India.
SANTA FE YOGA SHAKTI RETREAT, AUG. 7 -15 – YOGIC MEDITATION AND MANTRA SHAKTI
We will explore the secrets of yogic meditation through a study of special teachings of the Yoga Sutras. Dr. Frawley is one of the few western teachers who has studied the Sutras in the original Sanskrit with traditional teachers over the last more than thirty years. We will also examine the secrets of Mantra Shakti and show its connections with the Raja Yoga of Patanjali as well as to Vedic and Tantric teaching. Shambhavi carries special Mantra Yoga teachings from the Himalayas, particularly relative to different forms of Shakti.
This will be our main US retreat this year. The retreat center is conveniently located in the heart of Santa Fe and the program will feature extra time for visiting the Santa Fe region and its famous summer atmosphere.
GERMANY YOGA SHAKTI AND HEALING AYURVEDA, special retreat and study program with Yogini Shambhavi Devi, exploring Shakti as a healing force connected to Prana, Mantra, Yoga and Ayurvedic Healing.
JULY 21-24 in Cologne, Germany, Yogini Shambhavi's main European program for the year YOGIC ART OF HEALING YOUR HEART with Yogini Shambhavi Devi
JULY 20, Cologne Germany – mail@shaktisomayoga.de  for Cologne programs
NATIONAL AYURVEDIC MEDICAL ASSOCIATION CONFERENCE, APRIL 14-17, Warwick, Rhode Island, with special keynotes by Dr. David Frawley and Dr. Vasant Lad
Perhaps most important American Ayurvedic conference in recent years, a new opportunity to re-envision Ayurveda for the coming century, with Dr. Frawley and Dr. Lad as keynote speakers.
SHIVA GANGA YOGA SHAKTI
March 5 – 12, 2016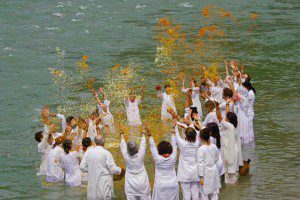 Our main retreat event of 2016, with the abundance and wisdom of Ma Ganga. Celebrate Mahashiva Ratri, the great night of Shiva, and comprehensive Yoga Shakti teachings at the beautiful Glass House Resort on the Ganga, the best facility in the area, an hour above Rishikesh in a private and quiet setting right on the sacred river, once sanctified by the presence of the Sri Anandamayi Ma.
Share special deeper yogic teachings and practices by Vamadeva and Shambhavi, including an in-depth Shiva Sadhana as based upon Dr. Frawley's new book, Shiva: The Lord of Yoga. This will be our ninth such yearly event in India and the eighth at the Glass House. We will also visit the famous Vasishta Guha (cave), where some of the greatest yogis of all time have meditated.

AFFILIATED EVENT – SECOND ANNUAL YOGA TANDAVA TOUR
Feb. 26 – March 5, 2016
Organized by the Kapha Collective in India with the support and participation of Yogini Shambhavi and Vamadeva. The program consists of a guided tour to Varanasi, the sacred city of Shiva, along with special temples in Delhi and Rishikesh.
DR. FRAWLEY'S FEB/MARCH 2016 INDIA EVENTS
Dr. Frawley's visit to India from Feb. 11 – March 29 2016 will including programs at Manipal University, Udupi (Feb. 17-18), Swami Rama Sadhaka Gram in Rishikesh, AYUSH Rajasthan, Udaipur (March 17-19), and Taj Literary Festival, Agra (Feb. 27-28). You can email us at vedicuniversity@gmail.com for more information.
---
---
CONCLUDED PROGRAMS 2015—-
YOGA SHAKTI RETREAT IN KAUAI
Dec. 28, 2015 – January 4, 2016 (7 Nights)
With Dr. David Frawley & Yogini Shambhavi
Themes – Shiva Dakshinamurti & Sundari Devi, Silent Awareness and the Power of Ananda
Jnana Yoga, Raja Yoga, Soma Yoga, Mantra and Mauna

Experience Shiva Jnana (the knowledge of Shiva) and Ananda Shakti (the power of bliss) in the celestial environs of the Garden Island of Kauai at a premier India style retreat center not accessible to the public. The entire facility is made of wood and stone from India, including the furniture and numerous statues.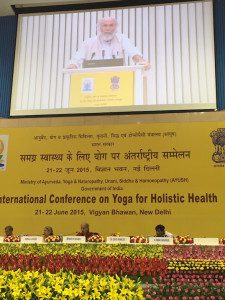 3RD INTERNATIONAL DHARMA-DHAMMA CONFERENCE on Harmony of Religions: Welfare of Mankind, Oct. 24-26, Indore, Madhya Pradesh, India – Vamadeva is one of the organizers of the event and Shambhavi will also speak, major national conference in India bringing together religious leaders from throughout the world to promote world peace. Hosted by Sanchi University of Buddhist and Indic Studies in Bhopal, India and the India Foundation.
WORLD LEADERSHIP DIALOGUE: The Wisdom of the Bhagavad Gita | Dec. 10 – 13, 2015, Chinmaya Vibhooti Ashram, Kolwan, Pune, India – Important event in honor of the hundred year anniversary of the birth of Swami Chinmayananda. Leading Swamis of the Chinmaya Mission, India, and important dignitaries will attend at their extensive Pune Ashram and teaching center. Dr. Frawley will be one of the keynote speakers.
---
---